Customer Reviews
09/02/2020
x1inbillionz
China
It's finally here ….
It's finally here ….UPS delayed delivery due to epidemic and riot ....But the chair is really comfortable, big and thick cushion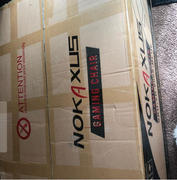 I'm very sorry, the logistics of the warehouse in the western United States has returned to normal. I hope the high quality of the chairs can offset your unhappiness. I wish the epidemic situation and riots an early end.
07/23/2020
Matt
United States
Overall great chair
Very sturdy compared to all the other chairs I have ever owned. I also like being able to choose my own recline instead of it just having a spring.
07/23/2020
Kandyce R.
United States
Great chair and seller customer service!
Chair seems to be a really nice high quality. Very comfortable. Amazing customer service from the seller!
07/23/2020
cedar M.
United States
07/19/2020
Caleb C.
United States
Worth it 100%
So I had a regular gaming chair just a basic office chair in lament terms. This chair right here.. is kick ***. I assembled it myself and it took about 45 mins to complete it. Super rigid, comfortable and just overall nice looking. The material it's make out of is really smooth and soft. I wasn't missing any screws or pieces to it.